The (nest)boxing is proceeding nicely, with the second leg laid early on Sunday morning.  A comment from Jane B says that she saw it laid at 00:47 – that's dedication for you!  So a gap of about 57 hours between egg one and egg two.
Both adults have been incubating occasionally, but the eggs have also been left uncovered for extended periods of time.  This is quite normal and nothing to worry about.  The SBSG Twitter feed captured a fantastic shot of the sunrise on Friday, ahead of the eclipse.  The sky clouded over but cloud thinned and the eclipse was great at St George's, but sadly I didn't have a camera with me to share the sight.  Of interest a small flock of Starlings circled the turrets, coming in to roost as the sky darkened, which they do most evenings.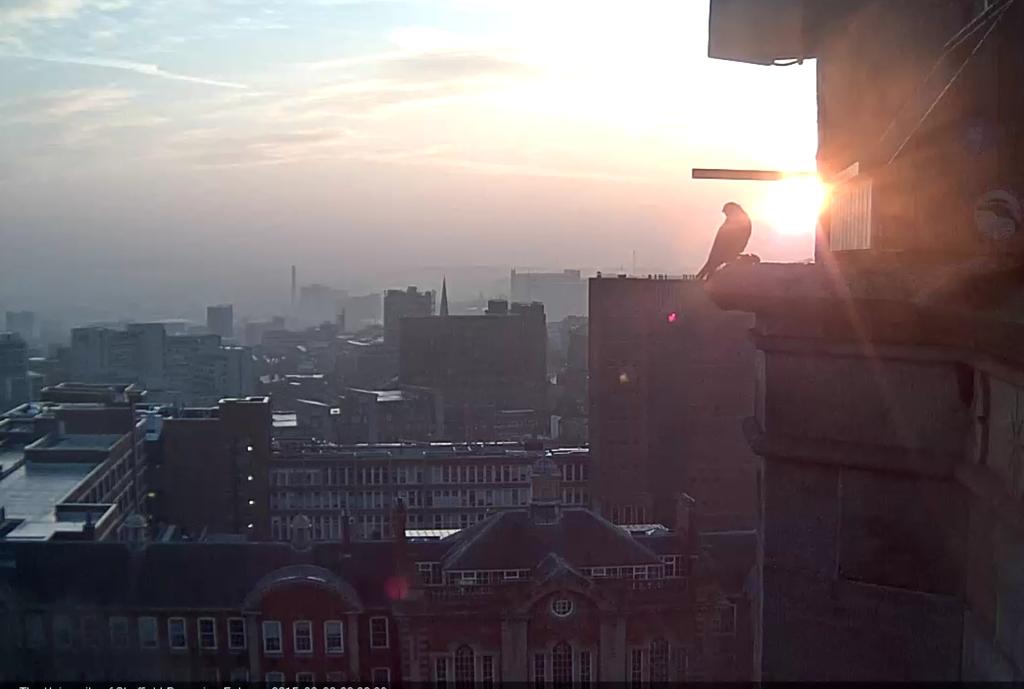 A visit today revealed plenty of activity, and the pair was observed copulating on the top of one of the turrets this afternoon, so further eggs should be expected.
In both of the previous two years covered by the webcam the female has laid four eggs, and according to the literature they often have the same clutch size from year to year.   It was also apparent that there's an adult close to the nest even when there's not one visible via the webcams, so the eggs are being well looked after.  The female is on guard again tonight from the perch, though last night she was on the box next to the egg.
It's unlikely that a third egg would appear sooner than 48 hours after the last, so my guess would be some time on Tuesday morning, perhaps early on.  Once incubation begins in earnest, there will be a definite lull in activity, with one bird or another almost constantly on the eggs, so the next few days will be a good chance to see both birds around the church tower for anyone who is in or around Sheffield.  This afternoon was very exciting with some great views – as below – I recommend a visit!